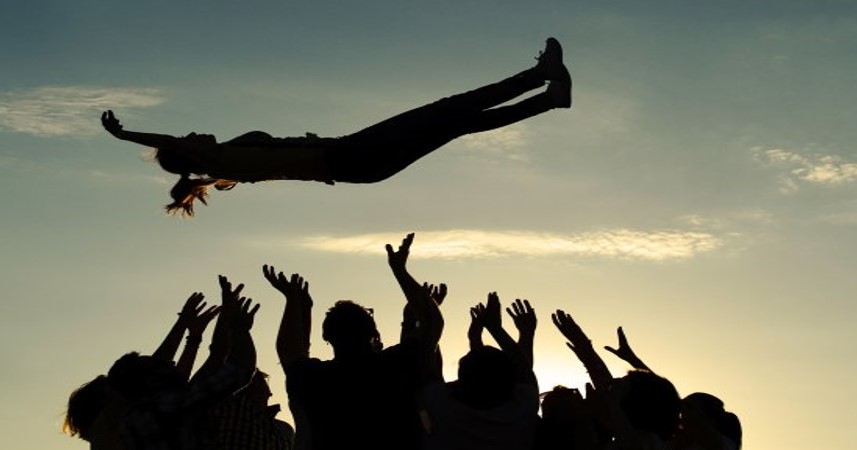 The New Testament is jam-packed with instructions to bodies of believers—churches—on how to live the gospel faith in a world that is not conducive to the gospel message. These instructions are easy to apply to today's church setting. But consider this: The New Testament era church thrived on the trust and fellowship of small gatherings, typically gatherings of believers in a house. Consequently, many of Scripture's most popular (and convicting) instructions are best experienced in the confines of a trusting, small-group environment.
Below are eight such instructions (actually, the first is more an example than an instruction). You'll see a Scripture passage (or two or three) followed by a comment on how the passage might be applied as a "Best Practice" in youth ministry. One more thing: at the end of the post you'll see a link to an exercise sheet to help you integrate your ideas on these practices in your ministry.
Koinonia Fellowship
Acts 2:42-47 (The mother verse)
42 They devoted themselves to the apostles' teaching and to fellowship, to the breaking of bread and to prayer. 43 Everyone was filled with awe at the many wonders and signs performed by the apostles. 44 All the believers were together and had everything in common. 45 They sold property and possessions to give to anyone who had need. 46 Every day they continued to meet together in the temple courts. They broke bread in their homes and ate together with glad and sincere hearts, 47 praising God and enjoying the favor of all the people. And the Lord added to their number daily those who were being saved.
Best Practice:
Koinonia fellowship is not just potluck dinner fellowship. It is the sharing of the common experience of the gospel message, particularly in light of living in a secular culture. The small-group setting provides at least an hour or two a week when believers can "enjoy the favor" of like-minded Christ followers, gaining strength and courage to face the world's turmoil for another week.
An Embedded Word
Colossians 3:16
16 Let the message of Christ dwell among you richly as you teach and admonish one another with all wisdom through psalms, hymns, and songs from the Spirit, singing to God with gratitude in your hearts. 
Best Practice:
Let's be honest, sermons and talks may not be the best opportunity to help the message of Christ "dwell richly among" our students. We like to think that's the case, but if we want to take this exhortation seriously, we need a dedicated time when we are doing everything possible to help students dwell with God's Word—utilizing learning styles, grappling with faith questions, providing an atmosphere for self-discovery.
Consistent and Persistent Encouragement
Hebrews 3:12-13
12 See to it, brothers and sisters, that none of you has a sinful, unbelieving heart that turns away from the living God. 13 But encourage one another daily, as long as it is called "Today," so that none of you may be hardened by sin's deceitfulness. 
Hebrews 10:24-25
24 And let us consider how we may spur one another on toward love and good deeds, 25 not giving up meeting together, as some are in the habit of doing, but encouraging one another—and all the more as you see the Day approaching.
Best Practice:
A trusting small-group environment is where deep-seeded encouragement can happen. This environment provides the groundwork for sharing that leads to "You too!? Me too!" This is the koinonia fellowship that gets us by until "the Day" approaches!
Healing-Grade Authenticity
Colossians 3:9-11
 9 Do not lie to each other, since you have taken off your old self with its practices 10 and have put on the new self, which is being renewed in knowledge in the image of its Creator.11 Here there is no Gentile or Jew, circumcised or uncircumcised, barbarian, Scythian, slave or free, but Christ is all, and is in all.
James 5:16
Therefore confess your sins to each other and pray for each other so that you may be healed. The prayer of a righteous person is powerful and effective.
Colossians 3:13
Bear with each other and forgive one another if any of you has a grievance against someone. Forgive as the Lord forgave you.
Best Practice:
The church is often the last place where we project an honest picture of ourselves. A trusting small-group environment can become the first place we project an honest picture of ourselves, giving us the opportunity to enjoy the healing of authentic confession and forgiveness.
Mutual Serving
Galatians 5:13
You, my brothers and sisters, were called to be free. But do not use your freedom to indulge the flesh; rather, serve one another humbly in love.
Best Practice:
In the larger gatherings of our churches, frequently the best serving of one another is a quick "I'll pray for you" as we move through the lobby and out the door. Connecting with others in a small-group setting gives us the chance to not only serve through prayer, but serve through meeting personal needs: food, companionship, a ride to a doc appointment, babysitting, etc.
Mutual Submission
Ephesians 5:21
21 Submit to one another out of reverence for Christ.
1 Peter 5:5
5 In the same way, you who are younger, submit yourselves to your elders. All of you, clothe yourselves with humility toward one another, because, "God opposes the proud but shows favor to the humble."
Best Practice:
Aside from the obvious of giving up your favorite seat, there aren't many opportunities to submit to one another in our larger church gatherings. But one hour in a small-group setting can give multiple opportunities to submit to one another. Examples that come immediately to mind: listening to what's being shared without crafting your own response in your mind, seeking to understand a different opinion, listen more than you speak (we have twice as many ears as we do mouths), realizing your prayer request may not be the most important one, taking a pass on the last cookie.
Spiritual Space
Luke 11:1
1 One day Jesus was praying in a certain place. 
Mark 9:31
30 They left that place and passed through Galilee. Jesus did not want anyone to know where they were, 31 because he was teaching his disciples.
Best Practice:
We see Jesus not only praying in a "certain place," but also seeking solitude for the specific task of teaching. We must provide a space that says to students: We are gathering to interact with a Message that is the difference between life and death—a space that minimizes distractions, encourages authenticity, and elevates the importance of God's Word.
Love
2 Thessalonians 1:3
3 We ought always to thank God for you, brothers and sisters, and rightly so, because your faith is growing more and more, and the love all of you have for one another is increasing.
Philippians 1:9-11
9 And this is my prayer: that your love may abound more and more in knowledge and depth of insight, 10 so that you may be able to discern what is best and may be pure and blameless for the day of Christ,11 filled with the fruit of righteousness that comes through Jesus Christ—to the glory and praise of God.
1 Peter 1:22
22 Now that you have purified yourselves by obeying the truth so that you have sincere love for each other, love one another deeply, from the heart.
Best Practice:
Where faith grows, love grows. Where knowledge of the Gospel grows, love grows. Where depth of spiritual insight grows, love grows. The trusting small-group setting is where faith can be exercised, knowledge can be expanded, insight can be drilled into. And the result? Love grows, love abounds, love deepens and becomes ever more intertwined with our hearts.
DOWNLOAD HERE an exercise sheet to help you apply this to your local ministry. In the PDF you'll see space beneath each instruction for you to meditate and journal immediate ideas for putting the best practice into, well, practice.