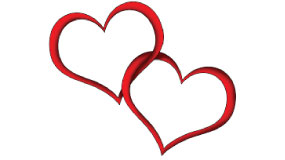 Valentine's Day tends to get a bad rap as a "Hallmark Holiday," one of those holidays that has been hijacked to sell more cards, candy, and flowers. Of course, that's pretty much what's happened to every holiday, whether it has a spiritual origin (like Christmas) or not (like "Sweetest Day"). Valentine's Day does actually have faith-based roots (I'll let you google that), but even with today's commemorations of cards, flowers, and Necco candy hearts, its love-based theme gives us one more gateway to help teens engage in God's Word…and it's a pretty good gateway.
Love is the big pull-back message of the Bible. It's also the micro-message that can be seen in nearly every verse of the Bible. So, with the world awash in heart-shaped candy boxes, it's an easy pivot to God's message, and a pivot that can help teens see all they can find when engaging in Scripture with purpose.
We've been adding tools each week as we've moved closer to February 14. The most recent tool added is  a teen devo out of our "Bite-Sized Chunk of God's Word" line…a fitting series title for a candy-coated holiday.
These simple tools below will give you a few gateways for engaging teens in Scripture that you might not normally have. Enjoy!
Teen Devotional:

True Love…And Like

(Bite-Sized Chunk of God's Word)

Speaking of bites of chocolate, we give you a special edition of "Bite-Sized Chunk of God's Word," a teen devotional specifically prepared for Valentine's Day 2018. Give students a chance to take a big bite into a small chunk of Scripture on God's big message: Love (and like!).
Memorize This!
Use this simple video tool to hide 1 John 4:11-12 in your heart. It's a special passage about love. Share this with your students, use it for your personal devotional time, or use it as an icebreaker for a group gathering.
Small-Group Exercise
A small-group exercise on a bite-sized chunk of Scripture from 1 John 4, the chapter packed with the most references to love per captita!

Bible Triva Video

Enjoy a fun and simple quiz connecting the Bible and love, a connection that often gets lost in today's dialogue and rhetoric.